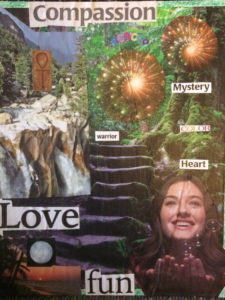 Vision Board Workshops
Upcoming vision board workshops:
Sunday, January 14th, 2018
2:00 pm – 5:00 pm
Owings Mills
Wellness professionals/practitioners only (e.g. therapists, counselors, acupuncurists, massage therapists, body work healers, etc.)
FAQS about Vision Board Workshops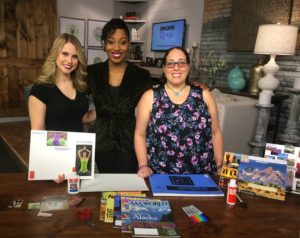 Q: What do you do in these workshops?
A: If you'd like to hear me talk about what I do in these workshops, watch this clip of me on Bmore Lifestyle.
In short, I use various creative techniques to help you express yourself, gain clarity, experience joy, and get support from others. Although much of the workshop is spent on the actual creation of vision boards, I often also incorporate the following:
Drama and other creative activities
Guided imagery or meditation
Rituals
Relaxing movements
I believe that these action-oriented activities increase the chance of your vision board manifesting your goals. See, while it is often enough for some people to simply envision their goals and be inspired by them, some people need further concrete plans in order to reach their goals. As Joel Barker said, "Vision without action is a dream. Action without vision is simply passing the time. Action with vision is making a positive difference." I believe that the variety of creative techniques I offer in my workshops provide opportunity for both vision and action.
Q: Who are these workshops for?
A: You will likely benefit from participating in a vision board workshop if you are
Interested in self-reflection, self-care, and creative expression
Feeling stuck or wondering what's next in your life
Focused more on what you should be doing instead of what you enjoy doing
Ready to make changes but need clarification on how to do so
Committed to your personal growth
Wanting to feel prepared, empowered, and motivated to go after your goals
Wanting to transform what you want into what you are, have, and do
Seeking better connection with yourself and others
Eager to give and receive support to and from others
I will specify what age, gender, etc. workshops are open to as each individual workshop is listed above.
Q: What is a vision board? What is the purpose of making one?
A: As I mention in the video above, a vision board is a collage of words and images that you choose to represent your goals. It is used as a tool to identify and clarify your goals and to help you focus on them and stay inspired to attain them. To create a vision board, you look through words and images that represent what you want to be, have, and do and then glue them onto a board. Many people then place their board where it is frequently viewed so that it provides constant motivation.
Some of the purposes of vision boards:
Self-reflection
Identify your vision of what you want in life and give it clarity
Keep your attention on your intentions
Manifest your goals
Some people believe that when you put your energy into something and surround yourself with a concrete vision of what you want in life, your life changes to match that vision.
Q: Can't I just make one at home?
A: Yes, you can, but there's often something more powerful about creating one in a group setting. Oftentimes, group members provide you with support, encouragement, and insight that you can't get when creating a vision board by yourself. In addition, in my workshops you also have a skilled leader to provide you with support, encouragement, and insight.
Q: What if I'm not good at art, drama, or other creative activities?
A: There's no need to be! What's important here is what you get out of the process of making a vision board, not the final product. The only thing that matters for the final product is that it inspires you, not anyone else! The same can be said about the other creative aspects of these workshops, as the insights you make and support you get during the process are more important than the final products.
Q: What if I don't know what my goals are?
A: No problem! While looking through words and images to create your vision board with, it is likely that certain words and images will stand out to you and inspire you. In fact, this is one of the ways that vision boards help you identify and clarify your vision of the future.
Q: What makes you qualified to lead these workshops?
A: As a Registered Drama Therapist who has been practicing psychotherapy for over 10 years, I am trained to use creative techniques for therapeutic purposes. You can learn more about me and my work here.
In addition to my professional experience, I believe that I have a lot to offer as someone who personally knows the power of the arts. Creative techniques have often helped me gain clarity and helped me know how to take action when I felt frozen in overwhelm.
Q: I'm ready to join you! How do I sign up? What do I need to bring?
A: You can register for each workshop using the link next to the date you would like to attend (see the top of this page).
You do not need to bring anything with you to the workshop, as I provide all of the necessary materials. However, if you have any materials that you would like to include on your board (e.g. words, quotes, images, stickers, photographs, etc.), you are more than welcome to bring them.
Register at the top of the page, or feel free to contact me for more information.