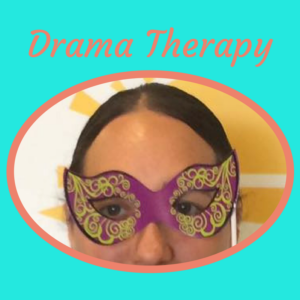 What is drama therapy?
Simply put, drama therapy is the use of theatre techniques in therapy. Drama therapists use role play, stories, storytelling, mask making, puppetry, and other dramatic techniques in sessions. We also often use other creative methods such as writing, art, music, and movement in sessions since drama includes other art forms. 
Drama therapists are trained in traditional talk therapy methods in addition to being trained in creative methods. Thus, I am qualified to do both verbal counseling and drama therapy. Since I strive to customize sessions based on clients' comfort levels, sessions vary in regards to how much talking and how much drama/creativity are used depending on each client's needs.
Examples of drama therapy activities include but are not limited to:
Creating collages or making masks to represent different feelings, giving the feelings names and turning them into characters, and exploring the positive and negative ways such feelings affect you
Role playing as a loved one who would give you words of comfort when you are having difficulties being kind to yourself
Practicing being assertive or standing up for yourself in various situations
Acting out a nightmare with figurines in a sand tray but changing the ending so that you have control over it
To learn more about drama therapy, please see my FAQ section about it and my blog posts about it. 
Who benefits from drama therapy?
Anyone can participate in and benefit from drama therapy, whether you have acting experience or not. Like all creative arts therapies, the creative techniques used in drama therapy emphasize the process of creativity as opposed to any products made in sessions.
I understand that you might associate the word "drama" with bad things, such as conflict, people who overreact, or having to speak in front of others. I also understand that it might sound weird to act, play, or do art as an adult because our culture expects us to stop doing those things once we reach adulthood and to be serious at all times as part of maturity.
Unlike the bad kind of drama mentioned above, the "drama" part of drama therapy refers to acting and other creative ways of expressing oneself other than through words alone. In drama therapy, we may explore conflicts, but it is done in a way that feels safe because it is only pretend. Exploring a conflict through role play or other creative ways may help you get better perspective on it, see the other person's view better, practice behavior that may help you through the conflict (such as saying "no" or expressing yourself to the other person), and help you be flexible during conflicts. Drama therapy also helps people to not overreact by helping them master their emotions. You don't have to worry about performing in front of others, as there is no one else in the session with you and me. The creative techniques we use are just meant to help you explore issues so are kept just between the two of us (unless you join me for a workshop or group therapy, but  no one is forced to participate in activities and can choose to observe during such times). 
As I mention in this blog post, sometimes drama is a good thing! Read the next section to find out why!
What are the benefits of drama therapy?
Some of my favorite benefits of drama therapy are:
It makes therapy feel less intense by using engaging activities and exploring issues in ways that feel non-threatening. Some clients actually report having fun in sessions!
It helps us see things from a different perspective. Sometimes we get stuck talking about the same things all the time, but when we examine our issues in a different way we are often able to make more sense of our experiences. 
It helps when we can't find words to express feelings. Sometimes we just can't find the right words to express something, and expressing ourselves creatively helps get the feelings out. This is especially true for children and teens because they do not have the same ability as adults to make sense of things in a verbal kind of way. 
It provides more opportunities to connect our minds and bodies by going beyond verbal expression.
It helps us to be more spontaneous and to "go with the flow" more in life.
It helps identify roles we get stuck in and helps us break free of those roles while trying out new roles that we want to play more of in life. It also helps us practice behaviors that we would like to have more of, such as practicing saying "no" to or setting other boundaries with people.
You can read about these and other benefits of drama therapy in these blog posts. 
For children and teens
In addition to helping children and teens who have experienced trauma or who feel different, I also help children and teens with more general issues. Some of the issues that I address are the following: 
Healthy coping skills
Anxiety management
Depression management
Anger management
Assertiveness
Self-esteem
Shame
Self-injury
Social skills
Healthy relationships
Life transitions (e.g. divorce, moving, a new school, etc.)
Drama therapy with elementary school aged children appears a lot like play therapy. I help them explore issues in an age-appropriate way with puppets, toys, games, art, and other engaging techniques. Since children at this age don't have the ability to verbalize thoughts, feelings, and memories as much as older children and adults, these creative techniques are especially beneficial to them.
With tweens and teens, I tend to use more role play, writing, mask exploration, art, and games. These techniques tend to engage tweens and teens, who are often known for their resistance to therapy and to adults in general, better than just talking in therapy does. 
For adults
In addition to helping adults who have experienced trauma and who feel different, I also help adults with more general issues. Some of the issues I also address include: 
Healthy coping skills
Anxiety management
Depression management
Assertiveness
Self-esteem
Shame
Self-injury
Healthy relationships
Life transitions (e.g. break ups, family changes, job changes, illness, etc.)
Although people often assume that drama therapy and the other creative arts therapies are only used with children, adults benefit from these creative therapies, too. When doing drama therapy with adults, the creative techniques that I tend to use are role play, art, writing, and poetry. 
Contact me
To learn more about how drama therapy can help you or your child, contact me for a free 15 minute consultation.